Digital Educational Games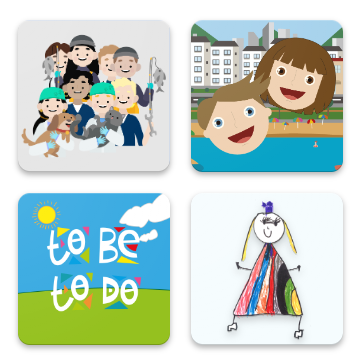 The educational games available in the web/mobile app were an innovative product because computer games were not offered to sensitise gender equality issues in either North or Southern Europe. What was innovative here was the issue of gender equality being worked through computer/mobile games.
Four games were held, each under a municipality's responsibility, and each dealt with a specific topic of gender equality.
The Spanish Game from Murcia Municipality is "Colourful Future" and allows children to memorise, connect and paint female and male professionals.
The Portuguese Game from Torres Vedras Municipality is "Together We Win" and works with the values of cooperation between boys and girls; that is, the boy and the girl can together kill the fears they face.
The Italian Game from Ravenna Municipality is "To Be To Do". It has a lot of mini challenges to play with after choosing a scenario, a character, a friend to play with (boy, girl, animal, or alone), and the clothes accordingly to the scenario chosen.
The Swedish Game from Härryda Municipality is "What Does it Mean to be Brave?". In this game, we choose a scenario and the characters; with them, we can make a movie with sound that can be saved, shared or deleted.
The games were all translated into all the partnership and English languages, thus enhancing the impact and transferability potential.
The games are available to play in a web version and mobile app for IOS and Android. This factor also enhances their impact and transferability potential.
The educational games are accessible on different platforms: from here, the project website, the Facebook page and the Instagram page. Any interested person can play and/or download the games in all these places on the internet. From these pages on the internet, it's possible to go directly to play on the desktop and to download the games to install on mobile phones and tablets.
All the games have links to the other games, and we can also find there all the mini-books created in the project's scope.