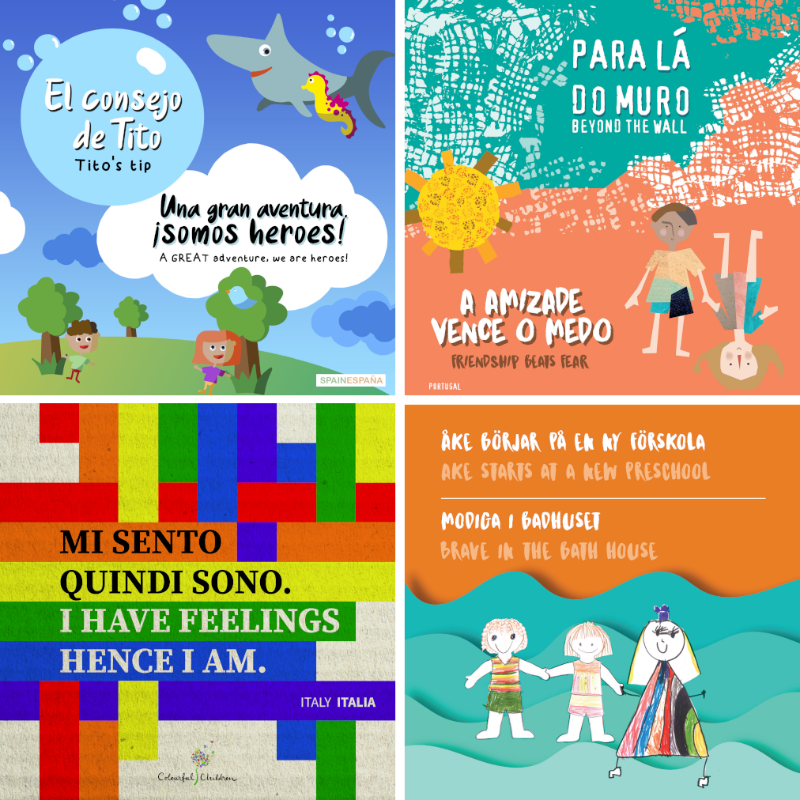 The collection of mini-books on the theme of gender equality developed within the project's scope was an innovative product more for the countries of the South than for the North of Europe. It's because, in Southern Europe, the supply of children's literature on gender and equality or gender-neutral books is practically non-existent.
The mini-books were also innovative in how they were produced – children between the ages of 3 and 6 created the story and illustrations under the guidance of their childhood educators.
The mini-books are all bilingual – in one of the partnership languages and English – so children could start at an early age to contact a second language. We consider this factor as another element of product innovation. The potential of transferability to other geographies is also great since all mini-books have the story written in English.
The potential for mini-books on gender equality to be transferable is substantial because all kindergartens, parents and caregivers who want to use mini-books can browse, download and print each one of the mini-books available on the website and social media networks. This way, they could make awareness raising children about gender and equality issues.
Each of the two kindergartens participating in the project created one story, so each national mini-book has two stories. So, we have a collection of four mini-books with two stories from each partner country, eight stories in total. The mini-books were printed enough to offer all children attending all municipal kindergartens in each country. In this way, the impact of this intellectual product is also high!
El consejo de Tito | Una GRAN aventura somos heroes!
Mas alla del muro | LA AMISTAD VENCE AL MIEDO
SIENTO | LUEGO EXISTO.
Åke empieza en una nueva escuela infantil | Valientes en la piscina
O conselho do Tito | Uma GRANDE aventura SOMOS HERÓIS
Para lá do muro | A amizade vence o medo
Sinto | Logo existo
Åke vai para um novo jardim de infância | Coragem nas piscinas
Il consiglio di Tito | Una grande avventura, siamo eroi
ALDILA DEL MURO | L'AMICIZIA VINCE LA PAURA
MI SENTO | QUINDI SONO.
Ake inizia una nuova scuola dell'infanzia | Che coraggio all'acquapark!
Titos tips | Det stora äventyret, vi är hjältar!
PÅ ANDRA SIDAN MUREN | VÄNSKAP ÖVERVINNER RÄDSLA
JAG HAR KÄNSLOR | DÄRFÖR ÄR JAG.
Åke börjar på en ny förskola | Modiga i badhuset